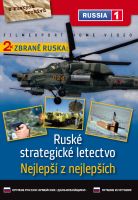 Weapons of Russia: The Best of the Best + Army Trucks Drivers - digipack
Nejlepší z nejlepších - Seznamte se s unikátními modely střelných zbraní, elektronickými systémy pro tanky, protileteckými raketovými systémy, které jsou schopné čelit zbraním s nejpřesnějším dostřelem, ale i s ruskými loděmi, jež jsou vybaveny nepřeberným množstvím obranných systémů.
Ruské strategické letectvo - Ukážeme vám strategické vzdušné zbraně moderní jaderné triády. Ve filmu se navíc dozvíte řadu zajímavostí o přísně tajných strategických bombardérech Tu-95, Tu-22M3 a Tu-160 a o tankovacím letounu Il-78 a seznámíte se s lidmi, kteří tyto úžasné stroje pilotují.
| | |
| --- | --- |
| | |
| videoukázka | videoukázka |
---
czech title: Weapons of Russia: The Best of the Best + Army Trucks Drivers
produkce Filmexport: Ano
length: 2 x 44 min.
colour: barevný
year of release: 2003/2004
studio: TV Channel Russia
country of origin: Rusko
director: Sergej Seregin/ Dimitrij Zolotov
script: Ljubov Chobotov/Anna Vinogradova
picture: 4:3 PAL, region 2
sound: Dolby Digital 2.0
language version: česká, ruská
medium type: DVD-5, digipack
EAN: 8595052208938
Join us, we have our own channel!

where you will find samples from archival Czech films, animated fairy tales and documentaries, which we have released on DVD. You can also access them from our website, just click on the following names - Movie Songs and Favorite Movie Scenes and Buzz. The samples are sorted here according to individual films.