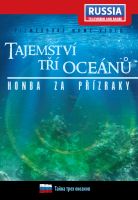 Secret of the Three Oceans - digipack
Do dnešních dnů se objevilo velké množství faktů i důkazů, jež svědčí o možné existenci neznámých podvodních objektů. Ovšem až vývoj nových technologií nabídl příležitost prozkoumat tyto "podvodní duchy" a určit jejich podstatu. Zdá se totiž, že se dokážou pohybovat daleko vyšší rychlostí a v mnohem větších hloubkách než většina moderních podvodních plavidel. Co anebo kdo vlastně jsou? Závoj, zahalující tyto záhady, je nyní odhalen díky výpovědím námořních důstojníků a agentů sovětského vojenského námořnictva.

videoukázka
---
czech title: Secret of the Three Oceans
produkce Filmexport: Ano
length: 44 min.
colour: barevný
year of release: 2006
studio: VGTRK
country of origin: Rusko
director: Vitalij Pravdivcev
script: Vitalij Pravdivcev
picture: 16:9 PAL, region ALL
sound: Dolby Digital 2.0
language version: česká, ruská
medium type: DVD-5, digipack
EAN: 8595052206613
Join us, we have our own channel!

where you will find samples from archival Czech films, animated fairy tales and documentaries, which we have released on DVD. You can also access them from our website, just click on the following names - Movie Songs and Favorite Movie Scenes and Buzz. The samples are sorted here according to individual films.