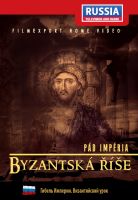 Ruin of the Empire, The - digipack
Bouře, hurikány, zemětřesení, tajfuny, záplavy i ničivá sucha se stávají stále častější součástí naší každodenní reality. Co se to s naší planetou děje? Přírodní katastrofy zastínily i teroristické útoky. Svět si totiž vzpomněl na dávnou biblickou potopu. Je možné, že by se opravdu blížil soudný den? Co naši planetu čeká za deset a více let? Kdo dokáže podobné katastrofy předpovědět? Odpovědi na tyto otázky se rozhodli najít tvůrci tohoto dokumentárního filmu společně s uznávanými experty současnosti.
Mocná Byzantská říše existovala 1120 let. Po tisíciletí odolávalo její hlavní město Konstantinopol náporu sousedních barbarských kmenů.Co způsobilo pád této vzkvétající říše? Co zlomilo ducha velkého byzantského lidu? Co oslabilo tak rozsáhlou velmoc rozkládající se mezi Evropou a Asií?

videoukázka
---
czech title: The Ruin of the Empire
produkce Filmexport: Ano
length: 73 min.
colour: barevný
year of release: 2008
studio: VGTRK
country of origin: Rusko
director: Roman Axenov
script: Tichon Ševkunov
picture: 4:3 PAL, region 2
sound: Dolby Digital 2.0
language version: česká, ruská
medium type: DVD-5, digipack
EAN: 8595052206637
Join us, we have our own channel!

where you will find samples from archival Czech films, animated fairy tales and documentaries, which we have released on DVD. You can also access them from our website, just click on the following names - Movie Songs and Favorite Movie Scenes and Buzz. The samples are sorted here according to individual films.