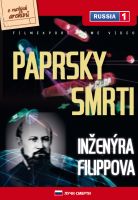 Ray of Death, A - DVD sleeve
V roce 1929 napsal Alexej Tolstoj sci-fi román Paprsky smrti inženýra Garina, jenž pojednával o vytvoření laserové zbraně. Na přelomu 19. a 20. století visela myšlenka paprsků či dokonce rentgenových paprsků doslova ve vzduchu. Mluvilo se o nich v salonech smetánky i v síních vědeckých ústavů. V poslední dekádě 19. století pracoval profesor Filippov v Petrohradě právě s rentgenovým zářením. V pokusech se mu podařilo pokročit mnohem dál než ostatním vědcům. V roce 1903 však Filippov zemřel za velmi záhadných okolností.

videoukázka
---
czech title: A Ray of Death
produkce Filmexport: Ano
length: 44 min.
colour: černobílý / barevný
year of release: 2004
studio: TV Channel Russia
country of origin: Rusko
director: Ilja Latypov
script: Oleg Vakulovskij
picture: 4:3 PAL, region 2
sound: Dolby Digital 2.0
language version: česká, ruská
medium type: DVD-5, papírová pošetka
Join us, we have our own channel!

where you will find samples from archival Czech films, animated fairy tales and documentaries, which we have released on DVD. You can also access them from our website, just click on the following names - Movie Songs and Favorite Movie Scenes and Buzz. The samples are sorted here according to individual films.