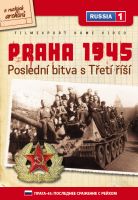 Prague 1945: The Last Battle of Third Reich - DVD sleeve
Dokument přibližuje zásadní momenty povstání a odpovídá na mnohé otázky. Proč bylo zapotřebí vyslat pomoc povstalcům v Praze, když bylo více než jasné, že hitlerovská říše padne nejvýše do dvou týdnů a Praha bude svobodná? Kdo povstání organizoval a dal signál k jeho zahájení? Jakou úlohu sehrála v potlačování povstání armáda generála Vlasova? V dokumentu vystupují jak přímí účastnící květnových událostí tak i členové odboje, sovětští výsadkáři, kteří byli vysazeni na území Československa před vypuknutím povstání, obyvatelé Prahy a váleční veteráni.

videoukázka
---
titul naleznete také zde:
---
czech title: Prague 1945: The Last Battle of Third Reich
produkce Filmexport: Ano
length: 44 min.
colour: černobílý
year of release: 2005
studio: TV Channel Russia
country of origin: Rusko
director: Alexander Sidorov
script: Nikolaj Jakovlev
based on: Georgij Jakovlev
picture: 4:3 PAL, region 2
sound: Dolby Digital 2.0
language version: česká, ruská
medium type: DVD-5, papírová pošetka
Join us, we have our own channel!

where you will find samples from archival Czech films, animated fairy tales and documentaries, which we have released on DVD. You can also access them from our website, just click on the following names - Movie Songs and Favorite Movie Scenes and Buzz. The samples are sorted here according to individual films.