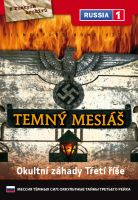 Possessed by the Devil: Secrets of the Third Reich - digipack
Hitlerův ohromující politický i vojenský úspěch vyvolává u řady lidí nevyhnutelnou otázku, jak mohl německý národ získat takovou moc a sílu. Vždyť to byli vesměs obyčejní lidé, nezřídka bez jakéhokoli vzdělání. Je možné, že by uzavřeli smlouvu se samotným ďáblem? Když v květnu 1945 dobyla Rudá armáda Berlín, v proniknutí do Hitlerova bunkru se sovětským vojákům snažili zabránit Tibeťané oblečení v uniformách, kteří patřili k tajné Vůdcově ochrance. Tibeťané u Hitlerova bunkru symbolizují zánik a zároveň i zrod mocné Třetí říše, neboť tajné tibetské vědění tvoří základ nacismu a mezi Berlínem a Šambalou údajně existovalo jakési tajemné spojení. Podle legendy již v Šambale nenalezneme žádné smrtelníky, nýbrž mocné tvory starobylé árijské rasy, jež povstaly z mrtvých. Hitler byl přesvědčen, že tento mytický svět skutečně existuje a chtěl z něho čerpat sílu pro své velitele, aby společně s nimi mohl rozpoutat nelidské běsnění, které přinesla druhá světová válka.

videoukázka
---
czech title: Possessed by the Devil: Secrets of the Third Reich
produkce Filmexport: Ano
length: 44 min.
colour: černobílý
year of release: 2005
studio: TV Channel Russia
country of origin: Rusko
director: Gennadij Gorodnij
script: Gennadij Gorodnij
picture: 4:3 PAL, region 2
sound: Dolby Digital 2.0
language version: česká, ruská
medium type: DVD-5, digipack
EAN: 8595052208891
Join us, we have our own channel!

where you will find samples from archival Czech films, animated fairy tales and documentaries, which we have released on DVD. You can also access them from our website, just click on the following names - Movie Songs and Favorite Movie Scenes and Buzz. The samples are sorted here according to individual films.