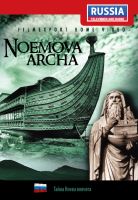 Noah´s Ark - digipack
Před tisíci lety se na Zemi odehrála přírodní katastrofa, při které mělo vše živé zemřít. Byl tu však jeden člověk, kterému se povedlo zachránit nejen sebe, ale i naši budoucnost. Někteří věří, že je tento příběh skutečný, jiní zpochybňují každé jeho slovo. Legenda o arše, kterou postavili svatí, je příběhem plným hádanek a tajemství. Všechny pokusy o nalezení pravdy způsobují ještě více otázek. Vydejte se s námi po stopách jednoho z nejznámějších biblických příběhů.

videoukázka
---
czech title: Noah´s Ark
produkce Filmexport: Ano
length: 44 min.
colour: barevný
year of release: 2009
studio: TV Channel Russia
country of origin: Rusko
director: Tatiana Malova
script: Gajane Petrosja
picture: 16:9 PAL, region ALL
sound: Dolby Digital 2.0
language version: česká, ruská
medium type: DVD-5, digipack
EAN: 8595052206460
Join us, we have our own channel!

where you will find samples from archival Czech films, animated fairy tales and documentaries, which we have released on DVD. You can also access them from our website, just click on the following names - Movie Songs and Favorite Movie Scenes and Buzz. The samples are sorted here according to individual films.