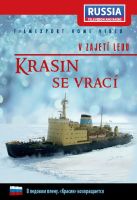 Held in Ice Captivity. The "Krasin" Comes Back - digipack
17. prosinec 2004 se zapíše do dějin polárního výzkumu jako den, kdy Spojené státy americké poprvé požádaly o pomoc Rusko. Americkou vědeckou výzkumnou stanici McMurdo v Antarktidě zcela zablokovaly ledové kry. Za pouhé tři dny od okamžiku, kdy USA požádaly o pomoc, dorazil z Vladivostoku do Antarktidy ruský ledoborec Krasin. Loď nesoucí stejné jméno se proslavila ve 20. letech minulého století záchranou Nobileho vzducholodi, která ztroskotala při návratu ze severního pólu.

videoukázka
---
czech title: Held in Ice Captivity. The "Krasin" Comes Back
produkce Filmexport: Ano
length: 44 min.
colour: barevný
year of release: 2005
studio: VGTRK
country of origin: Rusko
director: Ivan Bobryšev
script: Ilja Kulikov, Alexandr Adamovič
picture: 4:3 PAL, region 2
sound: Dolby Digital 2.0
language version: česká, ruská
medium type: DVD-5, digipack
EAN: 8595052206620
Join us, we have our own channel!

where you will find samples from archival Czech films, animated fairy tales and documentaries, which we have released on DVD. You can also access them from our website, just click on the following names - Movie Songs and Favorite Movie Scenes and Buzz. The samples are sorted here according to individual films.