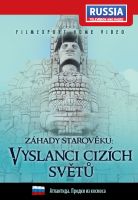 Atlantis. Mystic Predecessors - digipack
Archeologové v Mexiku nedávno objevili starou hrobku, v níž nalezli zlaté sošky exotických ptáků s trojúhelníkovými křídly a kolmými ocasními pery, které svým tvarem velmi připomínají moderní bojové letouny. V Egyptě byl na jedné ze starověkých nástěnných maleb objeven podrobný nákres vrtulníku se dvěma rotory, jako mají ty dnešní. Co tyto nalezené artefakty znamenají? Současní experti je pomocí konvenčních vědeckých metod vysvětlit nedokážou. Dávné mýty vypráví o egyptských faraónech vznášejících se na létajících discích. Proslulý král David zničil stovky svých nepřátel zázračným mečem, z něhož sršely blesky. Historikové nyní přicházejí se zcela novou teorií, která tvrdí, že na naší planetě kdysi dávno vzkvétala nesmírně vyspělá civilizace. Je možné, že by tato civilizace přicestovala na Zem z neznámých končin ve vesmíru? Potvrzují snad nalezené artefakty tuto novou teorii, jež převrací dějiny lidstva naruby?

videoukázka
---
czech title: Atlantis. Mystic Predecessors
produkce Filmexport: Ano
length: 45 min.
colour: barevný
year of release: 2011
studio: VGTRK
country of origin: Rusko
director: Anatolij Nevelskij
script: Natalia Jelmanova
picture: 4:3 PAL, region 2
sound: Dolby Digital 2.0
language version: česká, ruská
medium type: DVD-5, digipack
EAN: 8595052207788
Join us, we have our own channel!

where you will find samples from archival Czech films, animated fairy tales and documentaries, which we have released on DVD. You can also access them from our website, just click on the following names - Movie Songs and Favorite Movie Scenes and Buzz. The samples are sorted here according to individual films.