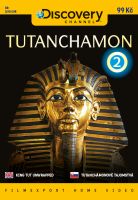 King Tut Unwrapped 2 - Life and Death - digipack
Král Tutanchamon je jednou z největších světových ikon. Co ale skutečně o něm víme? Tento král – chlapec zemřel ve věku 19ti let a zanechal za sebou legendární poklad i záhadu. Aby odhalili rodokmen mladého krále, Dr. Zahi Hawas a jeho vědecký tým použijí při tomto zásadním výzkumu testy DNA. Život a smrt Krále Tutanchamona byly vždy záhadou. Jaký vedl život? Oženil se a měl děti? Jeho mumifikace je odlišná od dalších dávných faraonů. Jeho hrobka byla naplněna předměty, které se vědci snaží rozluštit již skoro celé století. V této epizodě je výzkum zaměřen k určení jeho smrti.

videoukázka
---
czech title: King Tut Unwrapped - Life and Death
produkce Filmexport: Ano
length: 88 min.
colour: barevný
year of release: 2009
studio: DISCOVERY COMMUNICATIONS, LLC.
country of origin: USA
director: Brando Quilici
picture: 16:9 PAL, region 2
sound: Dolby Digital 2.0
language version: česká, anglická, slovenská
medium type: DVD-5, digipack
EAN: 8595052207528
Join us, we have our own channel!

where you will find samples from archival Czech films, animated fairy tales and documentaries, which we have released on DVD. You can also access them from our website, just click on the following names - Movie Songs and Favorite Movie Scenes and Buzz. The samples are sorted here according to individual films.