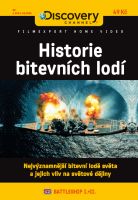 Battleship - DVD sleeve
Dvě hodiny historie nejvýznamnějších bitevních lodí světa nás provedou vývojem těchto symbolů absolutní moci. Dozvíme se, jak se válečné lodě staly ultimátní zbraní od bombardování Pearl Harboru až po jejich opětovné nasazení ve válce v Koreji, Vietnamu i Perském zálivu. Vyslechneme si příběhy a vyprávění z války od námořníků, kteří na nich žili. Historikové Paul Stillwell a Eric Grove nám prozradí, jaký byl jejich vliv na světové dějiny.
| | |
| --- | --- |
| | |
| videoukázka | videoukázka |
---
czech title: Battleship I.+II.
produkce Filmexport: Ano
length: 53 min. + 50 min.
colour: barevný
year of release: 1998
studio: DISCOVERY COMMUNICATIONS, LLC.
country of origin: USA
picture: 4:3 PAL, region 2
sound: Dolby Digital 2.0
language version: česká, anglická
medium type: DVD-5, papírová pošetka
Join us, we have our own channel!

where you will find samples from archival Czech films, animated fairy tales and documentaries, which we have released on DVD. You can also access them from our website, just click on the following names - Movie Songs and Favorite Movie Scenes and Buzz. The samples are sorted here according to individual films.