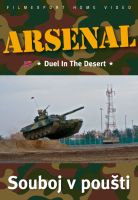 ARSENAL IV - Duel in the Desert - DVD sleeve
Čtvrtá epizoda poskytuje detailní informace o nových zbraňových systémech, které se utkávají v konkurenci o dobytí trhů Středního Východu. Oblast Středního Východu a její neustálý politický neklid se stala nenasytným odbytištěm všech zbraňových systémů. Seznámíme se s mohutnou vojenskou silou jakou představují obrněná vozidla, výkonný bitevní tank T-90, vzdušné obranné systémy například 2S6 Tunguska nebo útočný vrtulník Ka-50 Black Shark.

videoukázka
---
czech title: Arsenal - Duel in the Desert
produkce Filmexport: Ano
length: 53 min.
colour: barevný
year of release: 1998
studio: VIDEO ORDNANCE, Inc.
country of origin: USA
script: Steve Zaloga
picture: 4:3 PAL, region ALL
sound: Dolby Digital 2.0
language version: česká, anglická
medium type: DVD-5, papírová pošetka
Join us, we have our own channel!

where you will find samples from archival Czech films, animated fairy tales and documentaries, which we have released on DVD. You can also access them from our website, just click on the following names - Movie Songs and Favorite Movie Scenes and Buzz. The samples are sorted here according to individual films.