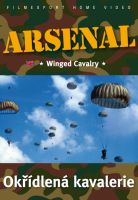 ARSENAL III - Winged Cavalry - DVD sleeve
Třetí epizoda představuje, že mobilita a schopnost rychle přesunout armádní jednotky do žádané destinace je jedním z nejpodstatnějších úkolů vedení moderní války. Historie a vývoj tradiční kavalerie ukazuje, že nejde jen o přepravu bojových jednotek na místo určení, ale kavalerie se stala vlastní útočnou silou se schopností zapojit se do boje s nepřítelem za použití celé škály zbraní. Program nabízí pohled na vysokorychlostní vozidla od jihoafrického stroje Rooikat po široce užívaný kanadský LAV. Podívejte se na vývoj výsadkových jednotek, jako je U.S. Army 82nd Airborne Division a usedněte do jedné z nejsmrtonosnějších zbraní moderní války, útočné helikoptéry, včetně americké Apache a jihoafrické Rooivalk.

videoukázka
---
czech title: Arsenal - Winged Cavalry
produkce Filmexport: Ano
length: 53 min.
colour: barevný
year of release: 1996
studio: VIDEO ORDNANCE, Inc.
country of origin: USA
script: Steve Zaloga
picture: 4:3 PAL, region ALL
sound: Dolby Digital 2.0
language version: česká, anglická
medium type: DVD-5, papírová pošetka
Join us, we have our own channel!

where you will find samples from archival Czech films, animated fairy tales and documentaries, which we have released on DVD. You can also access them from our website, just click on the following names - Movie Songs and Favorite Movie Scenes and Buzz. The samples are sorted here according to individual films.