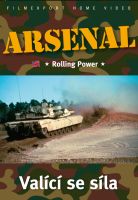 ARSENAL I - Rolling Power- DVD sleeve
První epizoda ukazuje organizaci dnešní armády a nejefektivnější využití její síly. Vývoj způsobu vedení boje od počátků z I. světové války přes období nástupu "věku tanků" během II. světové války po organizaci moderního válečného pole. Epizoda je zaměřena na klíčové bojové složky divize – tanky, pěchotu, dělostřelectvo, letectvo a jejich vzájemné působení. Uvidíte například bitevní tank M1 Abrams, pěchotní vozidlo M2 Bradley, dělostřelecké systémy včetně samohybné houfnice M109 a úderný vrtulník AH-64 Apache.

videoukázka
---
czech title: Arsenal - Rolling Power
produkce Filmexport: Ano
length: 53 min.
colour: barevný
year of release: 1996
studio: VIDEO ORDNANCE, Inc.
country of origin: USA
script: Steve Zaloga
picture: 4:3 PAL, region ALL
sound: Dolby Digital 2.0
language version: česká, anglická
medium type: DVD-5, papírová pošetka
Join us, we have our own channel!

where you will find samples from archival Czech films, animated fairy tales and documentaries, which we have released on DVD. You can also access them from our website, just click on the following names - Movie Songs and Favorite Movie Scenes and Buzz. The samples are sorted here according to individual films.