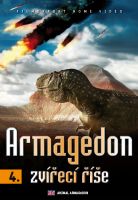 Animal Armagedon 4 - DVD sleeve
Oheň a led - Před 75 tisíci lety vrchol sumaterského supervulkánu Toba byl rozmetán na kusy a přinesl zkázu celému světu. Na povrch tryskaly miliony tun lávy a ničily bezprostřední okolí.
Kdo bude na řadě příště? - Hromadné vymírání je součástí naší minulosti a s největší pravděpodobností i naší budoucnosti. Dokáže lidstvo přežít srážku s asteroidem podobné velikosti, jaký vyhubil dinosaury?
| | |
| --- | --- |
| | |
| videoukázka | videoukázka |
---
czech title: Animal Armagedon
produkce Filmexport: Ano
length: 48 min. + 48 min.
colour: barevný
year of release: 2009
studio: Parthenon Entertainment Ltd.
country of origin: Velká Británie
director: Jason McKinley
script: Bryce Zabel
picture: 16:9 PAL, region ALL
sound: Dolby Digital 2.0
language version: česká, anglická
medium type: DVD-5, papírová pošetka
Join us, we have our own channel!

where you will find samples from archival Czech films, animated fairy tales and documentaries, which we have released on DVD. You can also access them from our website, just click on the following names - Movie Songs and Favorite Movie Scenes and Buzz. The samples are sorted here according to individual films.