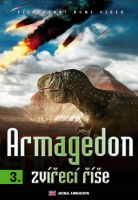 Animal Armagedon 3 - DVD sleeve
Soudný den - Před 65 miliony lety se Země srazila s kometou velikosti Everestu, jež dokázala rozbořit království dinosaurů na Zemi za jediný den. Rozpoutala drtivý úder, který se prohnal po celé zeměkouli za pouhých 24 hodin.
Panika v oblacích - Dopad obrovské komety či asteroidu před 65 miliony let je pouhým začátkem. Jakmile se prach konečně usadil, živočichové, kteří přežili, se probudili do drasticky odlišného a značně nestabilního světa.
| | |
| --- | --- |
| | |
| videoukázka | videoukázka |
---
czech title: Animal Armagedon
produkce Filmexport: Ano
length: 48 min. + 48 min.
colour: barevný
year of release: 2009
studio: Parthenon Entertainment Ltd.
country of origin: Velká Británie
director: Jason McKinley
script: Bryce Zabel
picture: 16:9 PAL, region ALL
sound: Dolby Digital 2.0
language version: česká, anglická
medium type: DVD-5, papírová pošetka
Join us, we have our own channel!

where you will find samples from archival Czech films, animated fairy tales and documentaries, which we have released on DVD. You can also access them from our website, just click on the following names - Movie Songs and Favorite Movie Scenes and Buzz. The samples are sorted here according to individual films.