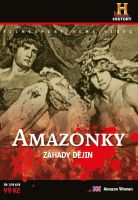 Amazon Women - digipack
Patří mezi nejkrutější válečníky, kteří kdy kráčeli po zemi. A jsou to ženy. Podle Řeků mohl Amazonku porazit jen ten nejlepší a nejodvážnější z nich. Amazonky jsou vyobrazovány všemi různými způsoby od krvelačných zabijáků až po nymfomanky. Skutečnost je však daleko prostší. Amazonky jsou ženy, které bojují proti útlaku za použití násilí. Donedávna mnoho vědců věřilo, že jsou jen mýtus. Ale tým archeologů objevil v Kazachstánu důkazy, potvrzující, že válečnice skutečně existovaly.

videoukázka
---
czech title: Amazon Women
produkce Filmexport: Ano
length: 43 min.
colour: barevný
year of release: 1999
studio: A&E Television Networks, LLC.
country of origin: USA
picture: 4:3 PAL, region 2
sound: Dolby Digital 2.0
language version: česká, anglická
medium type: DVD-5, digipack
EAN: 8595052206415
Join us, we have our own channel!

where you will find samples from archival Czech films, animated fairy tales and documentaries, which we have released on DVD. You can also access them from our website, just click on the following names - Movie Songs and Favorite Movie Scenes and Buzz. The samples are sorted here according to individual films.