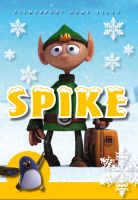 Spike - papírová pošetka
Spike, čerstvý absolvent školy pro elfy, se vydává na severní pól, kde by měl pracovat v Santově dílně. Po příjezdu se ho ujímá starý a zkušený elf Raymond, ale Spikeovi se příliš nedaří a tak jedna šlamastyka střídá druhou. Smutný a sklíčený Spike chce všem dokázat, že není úplně k ničemu, a přihlásí se proto o velmi těžký úkol přinést drahocenný vak se všemi dopisy, jež Santovi napsaly děti z celého světa. Vak je však ukrytý v zabezpečené bance v Tučňákově, odkud se ho Spike rozhodne za pomoci Raymonda uloupit.

videoukázka
---
titul naleznete také zde:
---
czech title: Spike
produkce Filmexport: Ano
length: 36 min. + 45 min. (bonusy)
colour: barevný
year of release: 2008
studio: TAT productions Groupe Master Image
country of origin: Francie
director: David Alaux, Eric Tosti
script: David Alaux, Eric Tosti, Jean-François Tosti
music: Oliver Cussac
picture: 16:9/4:3 PAL, region 2
sound: Dolby Digital 2.0
language version: česká
medium type: DVD-5, papírová pošetka
EAN: 8595052270201
---
bonusy
V zemi Santa Clause (24 min.)
Krátký humorný pohled na poslední přípravy v předvečer Vánoc
Elfové, lední medvědi i létající sobi nám prozradí, co všechno je třeba ještě zařídit, aby si děti mohly vychutnat ty pravé Vánoce.
Film o filmu (12 min.)
Rozhovor s tvůrci (9 min.)
Join us, we have our own channel!

where you will find samples from archival Czech films, animated fairy tales and documentaries, which we have released on DVD. You can also access them from our website, just click on the following names - Movie Songs and Favorite Movie Scenes and Buzz. The samples are sorted here according to individual films.