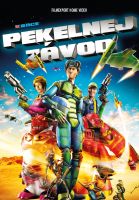 Pekelnej závod - digipack
Blíží se vesmírný závod Star Car a ničím nespoutaný nováček Trance Caldron z týmu Země se chce blýsknout před svými soupeři. Jakmile ovšem zjistí, že jejich úhlavní soupeř, tým z Tagmalie, se chystá svrhnout mírovou vládu Aliance, prestižní mistrovství vesmírných plavidel se promění ve smrtelně nebezpečnou kosmickou honičku, při níž osud celého vesmíru visí na vlásku. Trance, jeho závodní stroj i jeho tým musejí zajít až za hranici svých možností. V závodě dobra a zla je totiž vítězství vším.

videoukázka


---
titul naleznete také zde:
---
czech title: Race
produkce Filmexport: Ano
length: 99 min.
colour: barevný
year of release: 2006
studio: Hyper Image, Inc.
country of origin: USA
director: Robert Brousseau
script: Rhonda Smiley
picture: 16:9 PAL, region ALL
sound: Dolby Digital 2.0
language version: česká, anglická
medium type: DVD-5, digipack
EAN: 8595052206828
Join us, we have our own channel!

where you will find samples from archival Czech films, animated fairy tales and documentaries, which we have released on DVD. You can also access them from our website, just click on the following names - Movie Songs and Favorite Movie Scenes and Buzz. The samples are sorted here according to individual films.