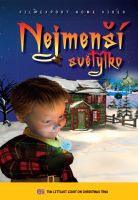 Nejmenší světýlko - papírová pošetka
Kouzelný příběh o opuštěné a vystrašené vánoční žárovce, kterou někdo vyhodil, a o osmiletém chlapci, který ji najde a vezme si ji domů. Rozbitá žárovka je k ničemu a nemá pro nikoho žádnou cenu, až na malého Timothyho, jenž rozumí jejímu toužebnému přání znovu se rozzářit. Chlapcova víra je natolik silná, že jednoho dne, když v celém městě dojde během sněhové bouře k výpadku proudu, maličké světélko se navzdory osudu i vlastním pochybám opravdu rozzáří, aby posvítilo na cestu těm, kteří jeho světlo vidí.

videoukázka
---
titul naleznete také zde:
---
czech title: The Littlest Light on Christmas Tree
produkce Filmexport: Ano
length: 44 min.
colour: barevný
year of release: 2004
studio: Marvista Entertainment, INC.
country of origin: USA
director: Anthony Gentile, John Gentile
script: Lynne Rader Lewis, Peter Lewis, Anthony Robert Gentile
music: Peter Lewis
picture: 4:3 PAL, region ALL
sound: Dolby Digital 2.0
language version: česká, anglická
medium type: DVD-5, papírová pošetka
EAN: 8595052270225
Join us, we have our own channel!

where you will find samples from archival Czech films, animated fairy tales and documentaries, which we have released on DVD. You can also access them from our website, just click on the following names - Movie Songs and Favorite Movie Scenes and Buzz. The samples are sorted here according to individual films.