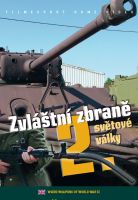 Weird Weapons of World War II - DVD sleeve
Některé z nich byly natolik neskutečné, že se nikdy nedostaly dále než do fáze návrhu. U jiných byly vyrobeny a testovány jejich prototypy. Další byly použity v boji s hrůzostrašným účinkem. Ať se jednalo o smrtící paprsky a obrovské drátěné sítě na obloze, které měly zachytit bombardéry, přes létající talíře, válečné lodě vytesané z ledových ker či tanky s raketovým pohonem – představivost a vynalézavost spojeneckých i nacistických expertů v oblasti zbraní a jejich šílené snahy překonat nepřítele a vyhrát válku neznaly hranic. Dokumenty Podivné zbraně 2. světové války odhalují tajemství těchto bizarních zbraní.

videoukázka
---
czech title: Weird Weapons of World War II
produkce Filmexport: Ano
length: 2 x 45 min.
colour: barevný
year of release: 2005
studio: Darlow Smithson Productions
country of origin: Velká Británie
director: Martin O´Collins
director of photography: Jeremy Irving
picture: 16:9 PAL, region ALL
sound: Dolby Digital 2.0
language version: česká, anglická
medium type: DVD-5, papírová pošetka
Join us, we have our own channel!

where you will find samples from archival Czech films, animated fairy tales and documentaries, which we have released on DVD. You can also access them from our website, just click on the following names - Movie Songs and Favorite Movie Scenes and Buzz. The samples are sorted here according to individual films.