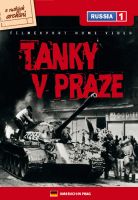 Umbruch in Prag - DVD sleeve
Události z 20. srpna 1968 šokovaly celý svět. Té noci do hlavního města tehdejšího Československa vtrhlo šest tisíc sovětských tanků. Bylo nepochybné, že starobylý orloj na Staroměstském náměstí začal odbíjet počátek nové éry. Dokument odkrývá staré archivní materiály, které byly nedávno odtajněny, a které více než pětatřicet let ležely ukryty pod tunami prachu. Na srpnové události zavzpomínají bývalí sovětští a čeští diplomaté i velké ryby komunistické strany obou zemí.
1. díl - Válka nervů
2. díl - Operace Vltava

videoukázka
---
czech title: Umbruch in Prag
produkce Filmexport: Ano
length: 44 min. + 43 min.
colour: černobílý
year of release: 2003
studio: TV Channel Russia
country of origin: Rusko
director: Alexander Sidorov
script: Nikolaj Jakovlev
theme: Georgij Jakovlev, Vasilij Antipov
picture: 4:3 PAL, region 2
sound: Dolby Digital 2.0
language version: česká, německá
medium type: DVD-5, papírová pošetka
Join us, we have our own channel!

where you will find samples from archival Czech films, animated fairy tales and documentaries, which we have released on DVD. You can also access them from our website, just click on the following names - Movie Songs and Favorite Movie Scenes and Buzz. The samples are sorted here according to individual films.