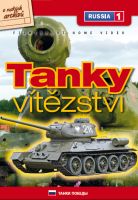 Tanks of Victory - DVD sleeve
Věhlasný a nejdokonalejší stroj své doby tank T-34 pomohl Rudé armádě porazit Německo na východní frontě, přesto se zdá, že legenda, jíž byl tank T-34 opředen, byla dávno zapomenuta. Víme o něm už jen velmi málo a spoustu toho jsme už zapomněli. V tomto dokumentárním filmu odborníci společně s veterány z prvních linií divákům ukážou, jak se T-34 stal nejlepším tankem 2. světové války. Vítězství na východní frontě je v mnoha ohledech právě zásluhou tanků T-34 a těžkých tanků IS-2, jakož i těch, kteří tento legendární bitevní stroj zkonstruovali, a těch, kteří ho v bojích ovládali.

videoukázka
---
czech title: Tanks of Victory
produkce Filmexport: Ano
length: 44 min.
colour: barevný
year of release: 2003
studio: TV Channel Russia
country of origin: Rusko
director: Valerij Balajan
script: Valerij Balajan
picture: 4:3 PAL, region 2
sound: Dolby Digital 2.0
language version: česká, ruská
medium type: DVD-5, papírová pošetka
Join us, we have our own channel!

where you will find samples from archival Czech films, animated fairy tales and documentaries, which we have released on DVD. You can also access them from our website, just click on the following names - Movie Songs and Favorite Movie Scenes and Buzz. The samples are sorted here according to individual films.