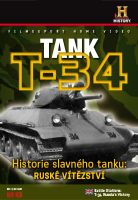 Tank T-34
Ruský tank T-34 byl pravděpodobně nejlepším tankem celé 2. světové války. Ve srovnání se západními tanky byl velice jednoduchý. Klíčem k úspěchu T-34 bylo jeho pancéřování, silné téměř 5 cm a také jeho kanón. První modely byly vyzbrojeny 76 mm děly. Pozdější tanky však byly vybaveny ještě vražednějším, 85 mm dělem. Další výhodou byl dieselový motor, který nezačal hned hořet, když byl tank zasažen. Tyto tanky byly vyvinuty v dokonalém utajení na Sibiři. Sovětští inženýři a dělníci v katastrofálních podmínkách započali jejich výrobu ve velkém, pracovali do úmoru, byli totálně vyčerpaní. Tank T-34 se zúčastnil těch největších tankových bitev v historii na Východní frontě.

videoukázka
---
czech title: Battle Stations: T-34 Russia´s Victory
produkce Filmexport: Ano
length: 45 min.
year of release: 2001
studio: A&E Television Networks, LLC.
country of origin: USA
director: Taylor Downing
picture: 4:3 PAL, region 2
sound: Dolby Digital 2.0
language version: česká, anglická
medium type: DVD-5, papírová pošetka
EAN: 8595052200703 10001
Join us, we have our own channel!

where you will find samples from archival Czech films, animated fairy tales and documentaries, which we have released on DVD. You can also access them from our website, just click on the following names - Movie Songs and Favorite Movie Scenes and Buzz. The samples are sorted here according to individual films.