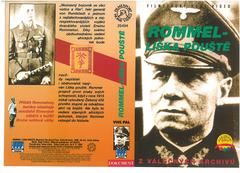 Rommel - liška pouště
"Neúnavný bojovník ve věci vůdce a říše", řekl generál von Rundstedt o jednom z nejtalentovanějších vojáků dvacátého století Erwinu Rommelovi. Díky svému obdivuhodnému vedení afrických jednotek bude navždy nepřáteli i obdivovateli nazýván Liška pouště. Rommel projevil první znaky svých schopností, když v roce 1915 získal vytoužený Železný kříž prvního stupně za odvážnou akci na bojišti. Ale bylo to vedení slavných afrických jednotek, kterým Rommel vstoupil do historie.
---
czech title: Rommel - The Desert Fox
produkce Filmexport: Ano
length: 55 min.
colour: černobílý
year of release: 1990
studio: Castle Communications PLC
country of origin: Velká Británie
director: Hugh O´Neil
sound: 1 CZ 2 orig
language version: česká
medium type: BTC
Join us, we have our own channel!

where you will find samples from archival Czech films, animated fairy tales and documentaries, which we have released on DVD. You can also access them from our website, just click on the following names - Movie Songs and Favorite Movie Scenes and Buzz. The samples are sorted here according to individual films.