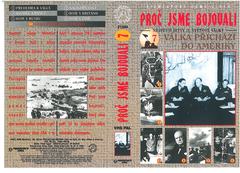 Proč jsme bojovali 7: Válka přichází do Ameriky
Rostoucí výboje Německa v Evropě, Itálii a Africe a Japonska na Dálném východě postupně donutily neutrální Spojené státy ke změně postojů. Postupně prosazená materiální pomoc napadeným zemím posléce vyústila v přímou vojenskou účast USA - to když 7. prosince 1941 Japonsko napadlo americké tichomořské loďstvo. Druhá světová válka tak dostala zcela novou dimenzi. Tyto události jsou náplní posledního dílu amerického cyklu Proč jsme bojovali, který dnes již patří ke klasickým dílům válečného dokumentu.
---
czech title: Why we fight VII: War comes to America
produkce Filmexport: Ano
length: 66 min.
colour: černobílý
studio: Powersports Production
country of origin: USA
director: Frank Capra
sound: 1 CZ 2 originál
language version: česká
medium type: BTC
Join us, we have our own channel!

where you will find samples from archival Czech films, animated fairy tales and documentaries, which we have released on DVD. You can also access them from our website, just click on the following names - Movie Songs and Favorite Movie Scenes and Buzz. The samples are sorted here according to individual films.