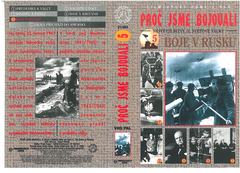 Proč jsme bojovali 5: Boje v Rusku
Na úsvitu  22. června 1941 zahájilo Německo válku proti Sovětskému svazu. S ohromnými ztrátami byla Rudá armáda zatlačena daleko na východ početně sice slabším, nicméně takticky vyspělejším Wermachtem. V bitvě pod Moskvou (zima 1941/1942) se podařilo útočníka odrazit, ale teprve porážka Wehrmachtu u Stalingradu (zima1942/1943) znamenala významný předěl v průběhu války.
---
czech title: Why we figt IV: The Battle of Russia
produkce Filmexport: Ano
length: 82 min.
colour: černobílý
studio: Powersports Production
country of origin: USA
director: Frank Capra
sound: 1 CZ 2 originál
language version: česká
medium type: BTC
Join us, we have our own channel!

where you will find samples from archival Czech films, animated fairy tales and documentaries, which we have released on DVD. You can also access them from our website, just click on the following names - Movie Songs and Favorite Movie Scenes and Buzz. The samples are sorted here according to individual films.