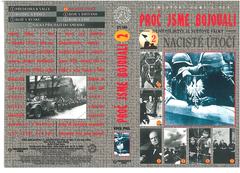 Proč jsme bojovali 2: Nacisté útočí
Nástup Hitlera k moci v Německu (1933) a jeho soustavné porušování versailleské smlouvy, obsazení demilitarizovaného Porýní (1936), anšlus Rakouska (březen 1938), selhání západních demokracií v Mnichově (září 1938), kde bylo v zájmu míru obětováno Československo, německo-sovětská smlouva o neútočení (srpen 1939), německý útok na Polsko a vstup Francie a Velké Británie do války (září 1939), o tom všem vypovídá druhý díl klasického amerického dokumentu Proč jsme bojovali.
---
czech title: Why we figt II: The Nazis Strike
produkce Filmexport: Ano
length: 41 min.
colour: černobílý
studio: Powersports Production
country of origin: USA
director: Frank Capra
sound: 1 CZ 2 originál
language version: česká
medium type: BTC
Join us, we have our own channel!

where you will find samples from archival Czech films, animated fairy tales and documentaries, which we have released on DVD. You can also access them from our website, just click on the following names - Movie Songs and Favorite Movie Scenes and Buzz. The samples are sorted here according to individual films.