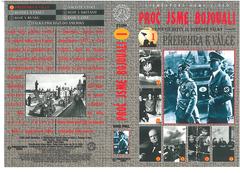 Proč jsme bojovali 1: Předehra k válce
Jaké byly příčiny vzniku II. světové války a co jí předcházelo? To je obsahem prvního ze sedmi dílů amerického dokumentu Proč jsme bojovali. Mocenský nástup nacistů v Německu, fašistů v Itálii i expanzivní kliky v Japonsku, agrese proti Mandžusku (1931) a Číně (1932), vpád do Etiopie (1935) a selhání společnosti národů, to vše je zachyceno v první části pozoruhodného díla, které dnes patří již ke klasice válečného dokumentu.
---
czech title: Why we figt I: Prelude to War
produkce Filmexport: Ano
length: 52 min.
colour: černobílý
studio: Powersports Production
country of origin: USA
director: Frank Capra
sound: 1 CZ 2 originál
language version: česká
medium type: BTC
Join us, we have our own channel!

where you will find samples from archival Czech films, animated fairy tales and documentaries, which we have released on DVD. You can also access them from our website, just click on the following names - Movie Songs and Favorite Movie Scenes and Buzz. The samples are sorted here according to individual films.