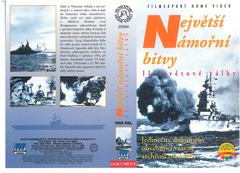 Největší námořní bitvy II. světové války
Když se Německo vylízalo z ran utržených v I. světové válce, vrhlo se opět do budování svého námořnictva. Hitler začal své tajné představy o obklíčení Británie svojí Kriegsmarine uskutečňovat hned v prvních hodinách války. Ponorky si okamžitě začaly vybírat krvavou daň mezi válečným i obchodním loďstvem protivníka. Vstup Mussoliniho Itále do války prudce změnil poměr sil ve Středomoří, Japonsko dalo brzy lekci Americe překvapivým útokem na Pearl Harbour 7. prosince 1941, při kterém Američané ztratili 19 bojových lodí, 190 letadel a 22 500 vojáků. Námořní akce spojenců však brzy měly změnit situaci.
---
czech title: Great Sea Battles of World War II.
produkce Filmexport: Ano
length: 58 min.
colour: černobílý
year of release: 1991
studio: Castle Communications PLC
country of origin: Velká Británie
director: Hugh O'Neil
language version: česká
medium type: BTC
Join us, we have our own channel!

where you will find samples from archival Czech films, animated fairy tales and documentaries, which we have released on DVD. You can also access them from our website, just click on the following names - Movie Songs and Favorite Movie Scenes and Buzz. The samples are sorted here according to individual films.