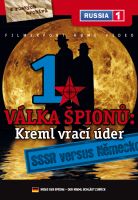 Krieg der Spione - Der Kreml schlägt zurück 1 - digipack
Tato unikátní dokumentární série vám přiblíží práci elitních výzvědných služeb ze zcela nové perspektivy. Na jejím vzniku se podíleli vysloužilí agenti tajných služeb i historici, kteří dosud nesměli hovořit s ruskými médii o své práci. Většina archivních materiálů a dokumentů použitých ve filmu byla po dlouhou dobu považována za přísně tajné a ležela ukryta ve střežených ruských archivech.
Císařství a Výmar
Třetí říše
Spolková republika Německo
| | | |
| --- | --- | --- |
| | |   |
| videoukázka | videoukázka |  videoukázka |
---
czech title: Krieg der Spione - Der Kreml schlägt zurück
produkce Filmexport: Ano
length: 3 x 44 min.
colour: černobílý
year of release: 2005
studio: TV Channel Russia
country of origin: Rusko
director: Sergej Komarov
picture: 4:3 PAL, region 2
sound: Dolby Digital 2.0
language version: česká, německá
medium type: DVD-5, digipack
EAN: 8595052207849
Join us, we have our own channel!

where you will find samples from archival Czech films, animated fairy tales and documentaries, which we have released on DVD. You can also access them from our website, just click on the following names - Movie Songs and Favorite Movie Scenes and Buzz. The samples are sorted here according to individual films.