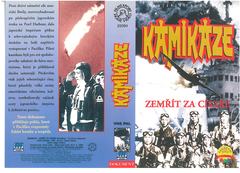 Kamikaze - Zemřít za císaře
Proti drtivé námořní síle americké flotily, znovu vybudované po překvapivém japonském útoku na Pearl Harbour, dalo japonské impérium příkaz k sebevražedným leteckým útokům na lodě nepřítele vystopované v Pacifiku. Piloti kamikaze byli pro své spolubojovníky zahaleni do hávu mysticismu, který je přibližoval duchu samurajů. Především však jejich sebezničující činy, které působily velké ztráty americkému válečnému loďstvu, symbolizovaly začátek cesty japonského impéria k definitivní porážce.
---
czech title: Kamikaze - To Die For The Emperor
produkce Filmexport: Ano
length: 53 min.
year of release: 1991
studio: Castle Communications PLC
country of origin: Velká Británie
director: Hugh O'Neill
sound: 1 CZ 25 originál
language version: česká
medium type: BTC
Join us, we have our own channel!

where you will find samples from archival Czech films, animated fairy tales and documentaries, which we have released on DVD. You can also access them from our website, just click on the following names - Movie Songs and Favorite Movie Scenes and Buzz. The samples are sorted here according to individual films.