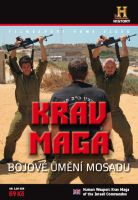 Human Weapon: Krav Maga of the Israeli Commandos - DVD sleeve
Krav Maga je drsný, vše dovolující bojový styl, který se používá k odzbrojení a zneškodnění ozbrojených útočníků. Byl vytvořen pro izraelské obranné síly ve 40. letech a představuje oficiální soustavu technik pro sebeobranu a boj zblízka.
Aby se naši průvodci stali skutečnými lidskými zbraněmi, cestují do některých z nejposvátnějších míst na světě, kde se učí uniknout smrtícím chvatům, zneškodnit zbraně nebo vypilovat bezohledné protiútoky. Jejich cesta končí bojem s celou elitní jednotkou profesionálů Krav Maga.

videoukázka
---
czech title: Human Weapon: Krav Maga of the Israeli Commandos
produkce Filmexport: Ano
length: 45 min.
colour: barevný
year of release: 2007
studio: A&E Television Networks, LLC.
country of origin: USA
director: Patrick Leigh - Bell
picture: 4:3 PAL, region 2
sound: Dolby Digital 2.0
language version: česká, anglická
medium type: DVD-5, papírová pošetka
Join us, we have our own channel!

where you will find samples from archival Czech films, animated fairy tales and documentaries, which we have released on DVD. You can also access them from our website, just click on the following names - Movie Songs and Favorite Movie Scenes and Buzz. The samples are sorted here according to individual films.