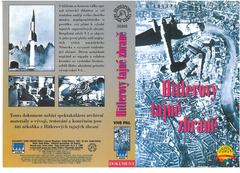 Hitlerovy tajné zbraně
S blížícím se koncem války upínal německý diktátor se vší zoufalou nadějí svého chorého mozku, nepřipouštějícího si porážku, svá přání k výrobě tajných superničivých zbraní. Bezpilotní střely V-1 se objevily jako prní plody úsilí nejlepších vědců nacistického Německa o vyvinutí rozhodující zbraně. Drcen armádami nepřátel ze západu a oslaben hroutící se východní frontou udělil Hitler absolutní prioritu vývoji raket V-2...
---
czech title: Hitler´s Secret Weapons
produkce Filmexport: Ano
length: 59 min.
colour: černobílý
year of release: 1991
studio: Castle Communications PLC
country of origin: Velká Británie
director: Andy Aitken
sound: 1 CZ 2 originál
language version: česká
medium type: BTC
Join us, we have our own channel!

where you will find samples from archival Czech films, animated fairy tales and documentaries, which we have released on DVD. You can also access them from our website, just click on the following names - Movie Songs and Favorite Movie Scenes and Buzz. The samples are sorted here according to individual films.