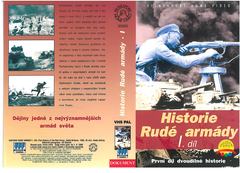 Historie Rudé armády - 1. díl
Architektem Rudé armády byl Lev Trocký. Ze tří tisíc mužů, jež měl k dispozici v roce 1917, ji rozšířil na pět milionů vojáků, kteří dokázali čelit polské armádě na Ukrajině dva roky poté. Trocký určil do vedoucích pozic profesionální vojáky, často bývalé carské důstojníky. Avšak Stalinova pověstná nedůvěřivost vedla k mnoha čistkám, které napáchaly v této struktuře řadu škod. Jedním z takto postižených byl i maršál Tuchačevský, který z Rudé armády utvořil jednu z nejsilnějších armád na světě. On sám se stal v roce 1939 obětí Stalinových čistek, které se současně s velkými ztrátami v katastrofální finské válce staly podnětem, který vedl Hitlera k domněnce, že může úspěšně napadnout Rusko.
---
czech title: The History of the Red Army I.
produkce Filmexport: Ano
length: 52 min.
colour: černobílý
year of release: 1993
studio: Castle Copmmunications PLC
country of origin: Velká Británie
sound: 1 CZ
language version: česká
medium type: BTC
Join us, we have our own channel!

where you will find samples from archival Czech films, animated fairy tales and documentaries, which we have released on DVD. You can also access them from our website, just click on the following names - Movie Songs and Favorite Movie Scenes and Buzz. The samples are sorted here according to individual films.