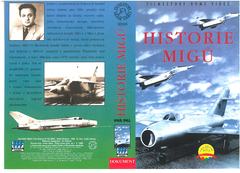 Historie MIGŮ
Jedno z nejslavnějších bojových letadel světa, známé jako MIG, prožilo svůj křest ohněm za Druhé světové války. Jeho futuristický design, navržený Arťomem Ivanovičem Mikojanem, odstartoval letadly MIG-1 a MIG-3 dynastii špičkových strojů, která pokračuje dodnes. MIG-15 likvidoval letadla Sabre v první válce tryskáčů nad Koreou a MIG-21 soupeřil s americkými Phantomy nad Vietnamem. A když Mikojan roku 1970 zemřel, jeho tým pokračoval v práci. Tak se zrodil MIG-31, patnáct let utajovaný letoun, který vám také v tomto dokumentu o jedné z největších leteckých legend představíme.
---
czech title: The History of the MIG
produkce Filmexport: Ano
length: 52 min.
colour: černobílý / barevný
year of release: 1993
studio: Castle Communications PLC
country of origin: Velká Británie
sound: 1 CZ 2 CZ
language version: česká
medium type: BTC
Join us, we have our own channel!

where you will find samples from archival Czech films, animated fairy tales and documentaries, which we have released on DVD. You can also access them from our website, just click on the following names - Movie Songs and Favorite Movie Scenes and Buzz. The samples are sorted here according to individual films.