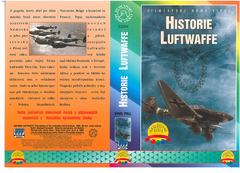 Historie Luftwafe
Z popela, který zbyl po ohni mnoha bojů mezi slavným letectvem Německa a jeho protivníky v První světové válce, povstala jako bájný Fénix Luftwaffe Třetí říše. Toto válečné letectvo bylo nástrojem Hitlerova snu o ovládnutí světa. Stalo se jeho hlavní oporou při blitzkriegu a dosáhlo mnohých vítězství za války v Polsku, Skandinávii, Nizozemí, Belgii a konečně ve Francii. Trpíc nedostatkem nových letadel a pilotů rozepjala Luftwaffe svá křídla nad oběma frontami v Evropě, hrála velkou roli v Severní Africe a posléze se blížila ke svému neodvratnému konci. Tragický příběh jednoho z nejsilnějších letectev světa byl ukončen v ohni hořícího Berlína.
---
czech title: The History of Luftwaffe
produkce Filmexport: Ano
length: 52 min.
colour: černobílý
year of release: 1989
studio: Castle Communications PLC
country of origin: Velká Británie
director: Michael Cambell
sound: 1 CZ 2 originál
language version: česká
medium type: BTC
Join us, we have our own channel!

where you will find samples from archival Czech films, animated fairy tales and documentaries, which we have released on DVD. You can also access them from our website, just click on the following names - Movie Songs and Favorite Movie Scenes and Buzz. The samples are sorted here according to individual films.