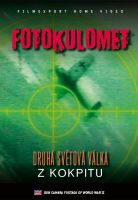 Gun Camera Footage of World War II - DVD sleeve
Tento dokument nabitý historickými obrazovými záznamy divákovi zprostředkovává nefalšované hrůzy vzdušných bitev 2. světové války nad Evropou a Tichomořím z jedinečné perspektivy odvážných mužů v pilotní kabině. Zažijete vše na vlastní kůži, uvidíte americké bombardéry pod neúprosnou palbou nacistických stíhaček i americké letouny P-51, P-47, P-38 a P-40 ženoucí se do bitvy. Budete bombardovat továrny, vlaky i muniční sklady přímo v srdci Německa a Japonska.

videoukázka
---
czech title: Gun Camera Footage of World War II
produkce Filmexport: Ano
length: 46 min.
colour: barevný
year of release: 1998
studio: Avion Park
country of origin: USA
picture: 4:3 PAL, region 2
sound: Dolby Digital 2.0
language version: česká, anglická
medium type: DVD-5, papírová pošetka
Join us, we have our own channel!

where you will find samples from archival Czech films, animated fairy tales and documentaries, which we have released on DVD. You can also access them from our website, just click on the following names - Movie Songs and Favorite Movie Scenes and Buzz. The samples are sorted here according to individual films.