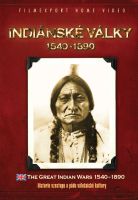 Great Indian Wars 1540-1890, The - 3x DVD - digipack
Rok 1540 přinesl osudový obrat v amerických dějinách. Velké indiánské války rozpoutal Francisco Vázquez de Coronado, když jeho výprava vstoupila na Velké pláně. Během 350 let se odehrála řada bitev, při nichž byla prolita krev a ztraceny desítky tisíc životů. Bitva u Tippecanoe, bitva u Horseshoe Bend, všechny tři seminolské války a bitva u Little Big Horn patří k nejvýznamnějším střetům, jež vedly k poslednímu masakru – bitvě u potoka Wounded Knee, která navždy změnila Ameriku.
Disk 1 - Indiáni, Kavalérie
Disk 2 - Indiánští válečníci a masakry, Bitva o Severní pláně
Disk 3 - Bitva o Jižní pláně
| | | |
| --- | --- | --- |
| | | |
| videoukázka | videoukázka | videoukázka |
---
czech title: The Great Indian Wars 1540-1890
produkce Filmexport: Ano
length: 79 min. + 92 min. + 47 min.
colour: barevný
year of release: 2006
studio: Mill Creek Entertainment, LLC.
country of origin: USA
director: Ron Meyer
script: Mark Reeder, Ron Meyer
picture: 4:3 PAL, region 2
sound: Dolby Digital 2.0
language version: česká, anglická
medium type: 3 x DVD-5, digipack v šubru
EAN: 8595052296584
---
bonusy
Série tří DVD nabízí pozoruhodné a zajímavé bonusy včetně:
- jedinečné interaktivní časové osy nejvýznamnějších historických událostí
- životopisy význačných důstojníků kavalérie i indiánských náčelníků, k nimž patří Tekumseh, plukovník Custer, Černý kotlík, Wild Bill Hickock, Splašený kůň, Kit Carson, Geronimo, Sedící býk a mnoho dalších.
Milníky indiánských válek, Američané, Váleční náčelníci
Join us, we have our own channel!

where you will find samples from archival Czech films, animated fairy tales and documentaries, which we have released on DVD. You can also access them from our website, just click on the following names - Movie Songs and Favorite Movie Scenes and Buzz. The samples are sorted here according to individual films.