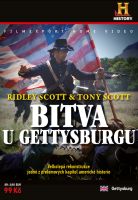 Gettysburg - digipack
Mistrovsky natočený dokument o významných okamžicích amerických dějin, kdy svár mezi Severem a Jihem nabývá na vrcholu a vítězství Unie se zdá nedosažitelné. Bratři Scottovi a jejich výlučná filmařina se zasloužili o excelentní zpracování krvavého konfliktu, který mapují krok za krokem, den po dni, a nazírají přes osudy prostých vojáků a civilistů, kteří si na samém počátku července roku 1863 prošli trýznivým peklem. Tři dny trvající zuřivý boj po sobě zanechal více jak padesát tisíc mrtvých a těžce raněných, a přestože sama bitva ještě neukončila vleklou občanskou válku, navždy Ameriku poznamenala a změnila.

videoukázka
---
czech title: Gettysburg
produkce Filmexport: Ano
length: 85 min.
colour: barevný
year of release: 2011
studio: A&E Television Networks, LLC.
country of origin: USA
director: Adrian Moat
picture: 16:9 PAL, region 2
sound: Dolby Digital 2.0
language version: česká, anglická
medium type: DVD-5, digipack
EAN: 8595052207757
Join us, we have our own channel!

where you will find samples from archival Czech films, animated fairy tales and documentaries, which we have released on DVD. You can also access them from our website, just click on the following names - Movie Songs and Favorite Movie Scenes and Buzz. The samples are sorted here according to individual films.