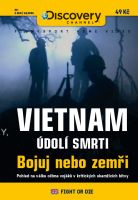 Fight or Die - DVD sleeve
Dokument Bojuj nebo zemři zachycuje osobní zkušenosti z války zcela neotřelým způsobem, díky němuž pronikneme do myšlení pětihvězdičkových generálů i vojáků z řad dobrovolníků v kritických okamžicích boje amerických vojáků ve Vietnamu v proslulé bitvě v Údolí smrti. V tomto strhujícím dokumentu uvidíte nejen skvěle natočené hrané pasáže, ale i výpovědi přímých účastníků této bitvy a archivní filmové záběry.

videoukázka
---
czech title: Fight or Die
produkce Filmexport: Ano
length: 45 min.
colour: barevný
year of release: 2008
studio: DISCOVERY COMMUNICATIONS, LLC.
country of origin: USA
director of photography: Jeffrey R. Daniels, Damon O'Steen
music: Patrick Morganelli
picture: 16:9 PAL, region 2
sound: Dolby Digital 2.0
language version: česká, anglická
medium type: DVD-5, papírová pošetka
Join us, we have our own channel!

where you will find samples from archival Czech films, animated fairy tales and documentaries, which we have released on DVD. You can also access them from our website, just click on the following names - Movie Songs and Favorite Movie Scenes and Buzz. The samples are sorted here according to individual films.