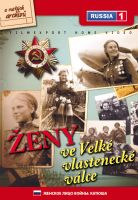 Female Face of War, The - DVD sleeve
K tomuto kroku přinutila ženy nevyhnutelná nutnost. Touha bránit jejich vlast, domovy a děti. Svaté právo! Staly se radistkami, ošetřovatelkami, telefonistkami... musely ovšem také vykonávat ryze mužskou práci jako pilotky, záškodnice či vojačky. Bohužel po skončení války byli jako hrdinové oslavováni pouze muži a na ženy se zapomnělo. Proč? Dokumentární film Ženy ve Velké vlastenecké válce vám přináší odpověď na tuto zapeklitou otázku.

videoukázka
---
czech title: The Female Face of War
produkce Filmexport: Ano
length: 43 min.
colour: černobílý
year of release: 2008
studio: TV Channel Russia
country of origin: Rusko
director: Alexej Kitajcev
script: Larisa Krivcova, Ludmila Romaněnko
picture: 4:3 PAL, region 2
sound: Dolby Digital 2.0
language version: česká, ruská
medium type: DVD-5, papírová pošetka
Join us, we have our own channel!

where you will find samples from archival Czech films, animated fairy tales and documentaries, which we have released on DVD. You can also access them from our website, just click on the following names - Movie Songs and Favorite Movie Scenes and Buzz. The samples are sorted here according to individual films.