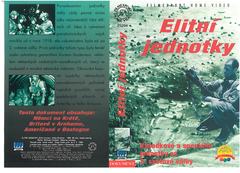 Elitní jednotky
Paradesantní jednotky měly vždy pevné místo jako nejznámější část elitních sil. Idea k vytvoření parašutických vojsk vznikla už v roce 1918, ale uskutečněna byla až za 2. světové války. První jednotky tohoto typu byly zcela téměř jistě vytvořeny generálem Kurtem Studentem, velitelem německých vzdušných-výsadkových sil, který se zasloužil o mnohá německá vítězství. Obrovské bojové úspěchy německých paradesantních jednotek rapidně urychlily vývoj podobných elitních sil Ameriky a Velké Británie.
Tento dokument obsahuje:
Němci na Krétě
Britové v Arnhemu
Američané v Bastogne
---
czech title: Elite Forces
produkce Filmexport: Ano
length: 60 min.
colour: barevný
year of release: 1990
studio: Castle Communications PLC
country of origin: Velká Británie
director: Michael Cambell
sound: 1 CZ 2 orig
language version: česká
medium type: BTC
Join us, we have our own channel!

where you will find samples from archival Czech films, animated fairy tales and documentaries, which we have released on DVD. You can also access them from our website, just click on the following names - Movie Songs and Favorite Movie Scenes and Buzz. The samples are sorted here according to individual films.