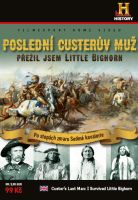 Custer's Last Man: I Survived Little Bighorn - digipack
Koncem června 1876 se do amerických dějin zapsala další z mnoha stěžejních událostí, jedna z kapitol Velké siouxské války z let 1876-1877. V zuřivém střetu proti sobě tehdy stanuli vojáci americké armády a bojovníci sjednocených indiánských kmenů (Lakota, Cheyenne, Arapaho). Pro armádu skončila bitva nečekaným fiaskem a stala se mementem v paměti velkého národa. A to nejen proto, že byla až zbytečně krvavá a došlo k ní krátce před stým výročím vzniku Spojených států, kdy měl nastat čas oslav a veselí. Ve vědomí hrdého a sebevědomého amerického lidu zanechala trvalý šrám. Především ale zůstala navždy i částečně zahalena tajemstvím, neboť na poražené straně generála George Armstronga Custera nebylo očitých svědků, protože dvoudenní jatka nikdo nepřežil …

videoukázka
---
czech title: Custer's Last Man: I Survived Little Bighorn
produkce Filmexport: Ano
length: 88 min.
colour: barevný
year of release: 2011
studio: A&E Television Networks, LLC
country of origin: USA
picture: 16:9 PAL, region 2
sound: Dolby Digital 2.0
language version: česká, anglická
medium type: DVD-5, digipack
EAN: 8595052208044
Join us, we have our own channel!

where you will find samples from archival Czech films, animated fairy tales and documentaries, which we have released on DVD. You can also access them from our website, just click on the following names - Movie Songs and Favorite Movie Scenes and Buzz. The samples are sorted here according to individual films.