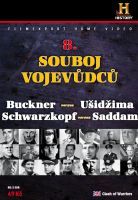 Clash of Warriors 8 - DVD sleeve
Buckner proti Ušidžimovi
1. dubna 1945 vyvrcholilo námořní a letecké bombardování strategického ostrova Okinawa. Byla to jedna z nejkrvavějších bitev v Tichomoří. Americký generál Simon B. Buckner a japonský velitel Mitsuru Ušidžima tento nelítostný souboj nepřežili. Američané pochopili, jaké obrovské ztráty by přinesla invaze do Japonska a proto se rozhodli použít atomovou zbraň.
Schwarzkopf proti Saddamovi
17. ledna 1991 zahájila vojenská koalice s mandátem OSN, vedená Spojenými státy, ofenzivu proti iráckým obranným postavením v okupovaném Kuvajtu. Akce nesla označení Pouštní bouře. V tomto důležitém souboji vojevůdců se jednalo o střet velitele koaličních sil, amerického generála Normana Schwarzkopfa a iráckého diktátora Saddáma Husajna.
| | |
| --- | --- |
| | |
| videoukázka | videoukázka |
---
czech title: Clash of Warriors
produkce Filmexport: Ano
length: 2 x 45 min.
colour: černobílý
year of release: 2000
studio: A&E Television Networks, LLC.
country of origin: USA
director: Jonathan Martin
picture: 4:3 PAL, region 2
sound: Dolby Digital 2.0
language version: česká, anglická
medium type: DVD-5, papírová pošetka
Join us, we have our own channel!

where you will find samples from archival Czech films, animated fairy tales and documentaries, which we have released on DVD. You can also access them from our website, just click on the following names - Movie Songs and Favorite Movie Scenes and Buzz. The samples are sorted here according to individual films.