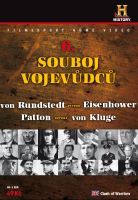 Clash of Warriors 6 - DVD sleeve
von Rundstedt proti Eisenhowerovi
Dne 6. června 1944 zasáhlo německou obranu v Normandii masivní námořní a letecké bombardování. Operace Overlord byla zahájena. Bitva o Normandii měla rozhodnout, jestli se Spojencům podaří udělat důležitý první krok k osvobození Evropy. V tomto osudném souboji se střetli generál Dwight Eisenhower a polní maršál Gerd von Rundstedt.
Patton proti von Klugemu
Po vylodění v červnu 1944 v Normandii spojenecké jednotky postupovaly podle plánu, ale v polovině července se jejich postup zastavil. Spojenci museli prolomit silnou německou obranu u St. Lo, aby mohli postupovat do nitra Francie. Prolomením německé linie byl pověřen generál G. Patton. Proti němu stál jeden z nejlepších německých velitelů, polní maršál von Kluge.
| | |
| --- | --- |
| | |
| videoukázka | videoukázka |
---
czech title: Clash of Warriors
produkce Filmexport: Ano
length: 2 x 45 min.
colour: černobílý
year of release: 2000
studio: A&E Television Networks, LLC.
country of origin: USA
director: Jonathan Martin
picture: 4:3 PAL, region 2
sound: Dolby Digital 2.0
language version: česká, anglická
medium type: DVD-5, papírová pošetka
Join us, we have our own channel!

where you will find samples from archival Czech films, animated fairy tales and documentaries, which we have released on DVD. You can also access them from our website, just click on the following names - Movie Songs and Favorite Movie Scenes and Buzz. The samples are sorted here according to individual films.