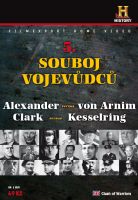 Clash of Warriors 5 - DVD sleeve
Alexander proti von Arnimovi - V dubnu 1943 došlo napříč Tuniskem k řadě bitev. Toto tažení Spojenců začalo u Suezského průplavu a skončilo na atlantickém pobřeží. Bitva o Tunis svedla proti sobě dva vojevůdce, kteří se od sebe velice lišili svými povahami. Proti sobě stáli v čele svých armád britský generál Harold Alexander a německý generál Hans von Arnim.
Clark proti Kesselringovi - U Anzia 22.ledna 1944 se odehrála krvavá a neúprosná bitva, v níž Spojenci museli svést zoufalý boj o udržení předmostí. Anzio se stalo zdlouhavou a draze zaplacenou operací, v níž americký generál Mark W. Clark a německý polní maršál Albert Kesselring spolu vybojovali dlouhotrvající souboj plný zvratů.
| | |
| --- | --- |
| | |
| videoukázka | videoukázka |
---
czech title: Clash of Warriors
produkce Filmexport: Ano
length: 2 x 45 min.
colour: černobílý
year of release: 2000
studio: A&E Television Networks, LLC.
country of origin: USA
director: Jonathan Martin
picture: 4:3 PAL, region 2
sound: Dolby Digital 2.0
language version: česká, anglická
medium type: DVD-5, papírová pošetka
Join us, we have our own channel!

where you will find samples from archival Czech films, animated fairy tales and documentaries, which we have released on DVD. You can also access them from our website, just click on the following names - Movie Songs and Favorite Movie Scenes and Buzz. The samples are sorted here according to individual films.