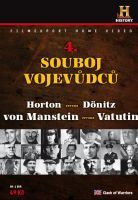 Clash of Warriors 4 - DVD sleeve
Horton proti Dönitzovi
3. září 1939 torpédovala německá ponorka britskou osobní loď Athenia. Začala bitva o Atlantik. V tomto důležitém boji změřili své síly a schopnosti dva veteráni první světové války: německý velkoadmirál Karl Dönitz a britský admirál sir Max Horton. Bitvou o Atlantik se Hitler nejvíce přiblížil vítězství, ale nakonec triumfovala odvaha, vytrvalost a technologická převaha Spojenců.
von Manstein proti Vatutinovi
Po porážkách pod Moskvou a u Stalingradu chtěl Hitler dosáhnout rozhodujícího vítězství na východní frontě. Německá ofenzíva známá jako Operace Citadela u Kurska přerostla k největší tankové bitvě v dějinách. Pokud by Němci zvítězili, znovu by se jim otevřela cesta do Moskvy. Proti sobě stáli polní maršál Erich von Manstein a ruský generál Nikolaj Vatutin.
| | |
| --- | --- |
| | |
| videoukázka | videoukázka |
---
czech title: Clash of Warriors
produkce Filmexport: Ano
length: 2 x 45 min.
colour: černobílý
year of release: 2000
studio: A&E Television Networks, LLC.
country of origin: USA
director: Jonathan Martin
picture: 4:3 PAL, region 2
sound: Dolby Digital 2.0
language version: česká, anglická
medium type: DVD-5, papírová pošetka
Join us, we have our own channel!

where you will find samples from archival Czech films, animated fairy tales and documentaries, which we have released on DVD. You can also access them from our website, just click on the following names - Movie Songs and Favorite Movie Scenes and Buzz. The samples are sorted here according to individual films.