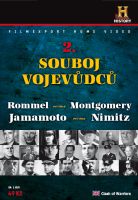 Clash of Warriors 2 - DVD sleeve
Rommel versus Montgomery
Libyjská a egyptská poušť byly za druhé světové války svědkem těžkých bojů. V poušti se zrodila legenda německého Afrika Korpsu a britské 8. armády, přezdívané "Krysy pouště". Bitva u El-Alameinu v říjnu 1942 se stala osobním soubojem mezi dvěma veliteli: polním maršálem Erwinem Rommelem, "Liškou pouště", a generálem Bernardem Montgomerym, kterému se říkalo Monty.
Jamamoto versus Nimitz
Bitva u tichomořského ostrova Midway 4. června 1942 měla rozhodnout o dalším průběhu války v Pacifiku. Také potvrdila dramatickou změnu v charakteru námořních střetnutí. Bitva o Midway proti sobě postavila japonského admirála Isoroku Jamamota a amerického admirála Chestera Nimitze. Tento souboj měl být konečnou zkouškou jejich schopnosti.
| | |
| --- | --- |
| | |
| videoukázka | videoukázka |
---
czech title: Clash of Warriors
produkce Filmexport: Ano
length: 2 x 45 min.
colour: černobílý
year of release: 2000
studio: A&E Television Networks, LLC.
country of origin: USA
director: Jonathan Martin
picture: 4:3 PAL, region 2
sound: Dolby Digital 2.0
language version: česká, anglická
medium type: DVD-5, papírová pošetka
Join us, we have our own channel!

where you will find samples from archival Czech films, animated fairy tales and documentaries, which we have released on DVD. You can also access them from our website, just click on the following names - Movie Songs and Favorite Movie Scenes and Buzz. The samples are sorted here according to individual films.