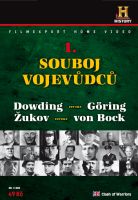 Clash of Warriors 1 - DVD sleeve
Dowding proti Göringovi
Koncem června 1940 stála Velká Británie sama proti Hitlerovi. V boji o Británii se střetli tváří tvář maršál Sir Hugh Dowding a Hermann Göring. Dvě osobnosti s velmi rozdílným charakterem a stylem. V tomto boji utrpěla německá armáda zdrcující porážku.
Žukov proti von Bockovi
Operace Barbarossa bylo německé kódové jméno pro invazi do SSSR. Vyčerpaná německá vojska nedokázala v krutých zimních podmínkách a za sílícího odporu Rudé armády pokračovat ve svém postupu a přešla do obrany. Polní maršál Fedor von Bock se snažil proniknout do Moskvy a zlomit vůli ruských obránců a ruského lidu.
| | |
| --- | --- |
| | |
| videoukázka | videoukázka |
---
czech title: Clash of Warriors
produkce Filmexport: Ano
length: 2 x 45 min.
colour: černobílý
year of release: 2000
studio: A&E Television Networks, LLC.
country of origin: USA
director: Jonathan Martin
picture: 4:3 PAL, region 2
sound: Dolby Digital 2.0
language version: česká, anglická
medium type: DVD-5, papírová pošetka
Join us, we have our own channel!

where you will find samples from archival Czech films, animated fairy tales and documentaries, which we have released on DVD. You can also access them from our website, just click on the following names - Movie Songs and Favorite Movie Scenes and Buzz. The samples are sorted here according to individual films.